PicTapGo has a variety of customizable settings, accessible from the in-app Settings screen. To access settings, from most places in the app, you can simply press the menu button at the top of the screen, and select Settings.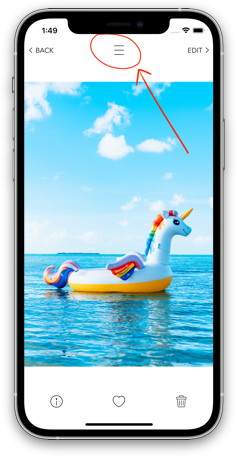 Available Settings
Help
Browse Online Help opens the PicTapGo support site in your browser.
Contact Support opens a form for you to contact PicTapGo support about any issues you may be having. This will also send us some vital diagnostic data, so if you're having a problem that requires human support, this is the best method to use.
Interface
Photo Library Thumbnail Size sets the size of thumbnails for your camera roll in PicTapGo.
Filter Grid Thumbnail Size sets the size of thumbnails for the filter library grid in the editor.
Interface Style sets the interface to a dark or light interface, or just inherits the current setting from your device.
Editing
Show Most Used Group will add a filter category after Favorites that includes your most frequently used filters. These are automatically updated, and cannot be changed.
Always Show Develop Controls will enable the Develop module for all images, not just camera raw. Develop is a special module that includes EV, color temperature, and tint controls. It cannot be stacked with other filters, but provides an aesthetically different way to change the image from the Basic Adjustments in PicTapGo. Develop is included in the Adjustments menu.
Output
Save Image As Copy will create a new image in your camera roll each time you save. When this switch is off, images will be saved over your original. Changes to your original image made this way are non-destructive, and are managed by iOS's Photo Library. You can still revert to the original image later by either opening the image in the iOS Photos app, selecting Edit, and then Revert. You can also open the image in PicTapGo at a later date and make changes to your original edit, including steps you've already applied.
Preserve Original Creation Date will set the creation date metadata of any newly created images to the date the original image was created, rather than the time the new image was created. This can be useful for keeping an image and its edited versions together in the camera roll (or other editors) when sorting by creation date.
Force 8-Bit Rendering will force PicTapGo to use a lower-quality rendering pipeline, using 8 bits per pixel to represent the image, rather than the 16 bits that we default to. The difference is usually negligible (PicTapGo Classic was always 8-bits, and the App Extension also uses 8 bits). Enabling this can help if you're editing large images using certain filters, as ultimately iOS runs on mobile devices, which typically have more constraints on memory than desktop computers. If large images are causing crashes when saving them at the end of an editing session, forcing 8-bit rendering might help.
Maximum Output Pixel Count will constrain the size of PicTapGo's output by pixel count. You may choose either 12MP, 24 MP, or no limit (default). This setting is useful when editing large images (i.e. from professional dSLR or mirrorless cameras), which otherwise might cause PicTapGo to crash due to memory constraints. The output size will (potentially) be smaller than the original image. It will be the same shape, just resampled to a lower total number of pixels. Images smaller than the count in this settings will not be upsampled - this is only an upper constraint on image size.
Add Saved Photos to Album Named allows you to change the name of the album in your photo library that PicTapGo adds its edited images to
Backup
Backup PicTapGo Settings will create a copy of PicTapGo's internal settings, including your preferences, recipes, editing history, favorites, etc. Use this to transfer your PicTapGo settings to another device, or for safekeeping. You will have the option to send this file via text, email, AirDrop, etc. To restore a backup created via this method, simply open the backup file on a device that has PicTapGo installed.
Restore Backup allows you to restore a recent automatic backup. PicTapGo makes periodic backups of all your settings, and in the event you delete something important (i.e. your favorite recipe), you can restore it this way. Note - all your current settings will also be overwritten, so you may want to make a manual backup before restoring via this method.
Import Data From PicTapGo Classic - this automatic import method is deprecated as of v4.1.0. You can still manually backup PicTapGo Classic settings and open them in PicTapGo to transfer things.